Ok, so technically, this was not my first cruise, but it was my first time on a cruise with my family. Everything changes when you have two kids in tow. Here are our tips for first time cruisers based on what we learned during our first family cruise.
Bonine
Avoid seasickness and post-cruise vertigo with Bonine.  Yes, Dramamine works too, but Bonine causes less drowsiness and dry mouth than Dramamine.  Also, Bonine requires only one dosage a day, although the price of a package is a little more than Dramamine.  If you run out, they carry Bonine on the ship.
Check-in Ahead Of Time
We did this, but it is worth mentioning because it is really important. Not only does it save you time on departure day, but it allows you to go ahead and print your luggage tags. This allows you to drop off your bags upon arrival to the port and prevents you from dragging your bags around while you search for your cabin. Your bags will magically appear outside your cabin door later in the day.
Print Luggage Tags
You can check-in online at least a week before your departure and print your luggage tags. The tags must be affixed to your luggage when you get to the port. Do not put luggage tags on before you fly, wait until you are on the ground.
Luggage Tag Covers
Do not look like a first-time cruiser when you board.  Purchase luggage tag covers to ensure that your pre-printed luggage tags do not get ripped off and thus, your baggage will not be misplaced.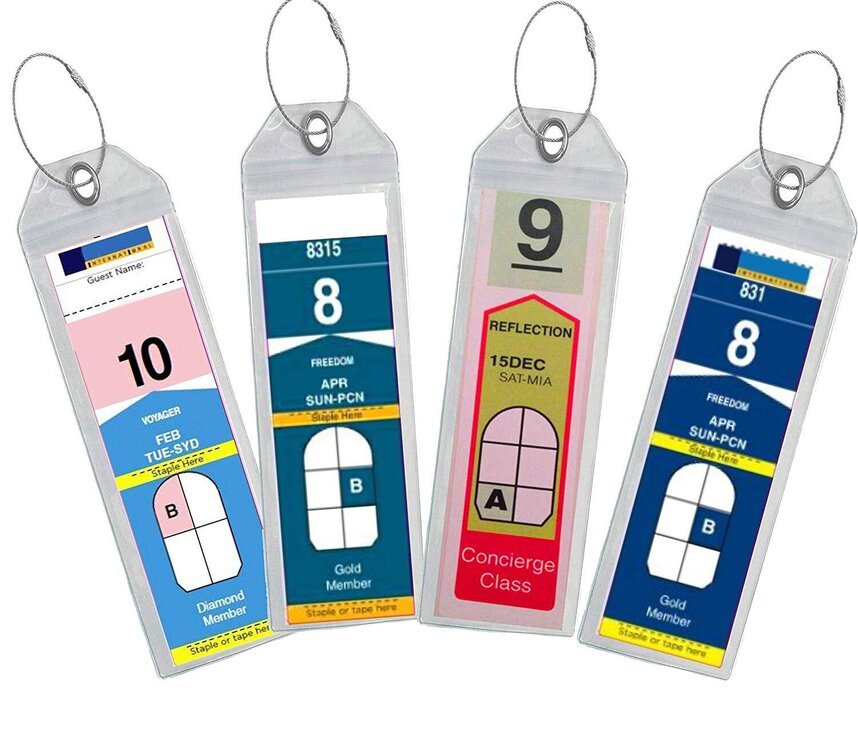 Do Not Put Passports in Luggage
Once the porters have your bags loaded, they disappear quickly. If your passport is packed in the luggage that has now disappeared, you are going to have to wait for your bags to be retrieved so that you can, in turn, retrieve your passport. Carry passports in your carry on bags.
Wristbands For Kids
If traveling with kids under 12, make sure you stop by the table where they are putting wrist bands during boarding. This ensures your kids are taken to the correct muster station in event of an emergency, more on that later.
Research The Layout Of The Ship
We just got on the ship and started walking. Big Mistake. Most floors do not have continuous hallways since much of the ship is common areas that divide up the different levels. Basically, you can not get from one end of the ship to another on some levels so you have to go to a level that is continuous to get to the end of the ship where your room is.
If you have already researched the layout of the ship and where your cabin falls in that layout, you will save yourself wandering aimlessly with a hungry family in tow.
Cabins Are Not Ready Until 2:00 PM (ish)
Thus, some hallways are completely blocked off from entry which was part of the reason we could not find our cabin. We simply wanted to drop off our carry on bags so that we could go to the dining hall for lunch. However, after traversing the cruise ship multiple times, we were finally told that we could not access our rooms until 1:30, but I have since read that 2 PM is the norm. It was at this point that our hangry family finally went to the dining hall with our bags. We should have gone straight there! Lesson learned.
Pack a Bathing Suit In Your Carry On Bags
Oops! After lunch, the boys were ready to hit the pool, but their swim trunks were in our luggage which had not been delivered to our cabin yet. In fact, we probably should have all packed one extra set of clothes in our carry on bags – always be prepared for the unexpected! My mom always told me to keep a bathing suit close by during vacations, and I failed! Luckily, our suitcases arrived shortly after the muster station drill.
Muster Station Drill
A muster station is a place on a ship where passengers should assemble in an emergency. Before the ship can depart, everybody on the ship must muster in their assigned area. Your cruise card will be scanned to ensure that you completed the drill, so do not keep everybody waiting and make sure you attend the muster drill in a timely manner.
Download The Cruise Line App
If you are not purchasing the WiFi package, you should put your phone on airplane mode as soon as you board so you do not connect to the ship's WiFi and pay per minute pricing. The app will still work on ship wifi even if you do not purchase the WiFi package. Make sure to download the app before you get on board.
If you do not have wi-fi, the app is really the only way to stay in touch with your friends and family you are traveling with on the cruise. It also helps you keep track of which activities are occurring on the ship at any given time.
Activities Are Not Always Available
Do not assume that just because the ship has a Sky Pad and laser tag that you will be able to access them at any time. These activities are only set up during certain hours so make sure you plan your days accordingly to be able to participate in all of the fun activities on board. Your app will help you keep track of what is offered when.
Bring Cash
You may really connect with a staff member or decide to leave the ship and need some cash for a taxi. Either way, make sure you bring cash so you are prepared in any situation. The last thing you want is to pay those ATM surcharge fees at a port somewhere!
My Time Dining
Many cruise ships are now utilizing My Time dining which allows you to choose the time you want to dine each evening. This is great for the days you want to stay longer in a port or dine earlier to catch a show. However, you should try to have an idea of what time you will want to dine each day so you can go ahead and make a reservation for that particular day. If you just show up, you will likely have to wait in a line.
Kids Club Times
We found out the hard way that the kids club is not open the entire day. It was just opened for certain blocks throughout the day. We made a dinner reservation for 5:45 PM on the departure day (which happened to be Valentine's Day) for just Rob and me. We thought we would feed the boys something from the buffet before that then take them to the kids club while we had a Valentine's date, then go to the 7 pm ice show that night. However, the kids club did not open until 7 PM, so we ended up spending the evening with the boys which worked out fine. Of course, it kind of set the tone for the trip, and they never made it to the kids club, but there was plenty for us to do to keep them entertained.
Look how cute my Valentine's date was! And he is happier to take photos than my original date!
Pack Wine
If you do not purchase the beverage package, the first two adults 21+ in a room are allowed to bring a bottle of wine onboard.
Food Must Be Sealed
Do not make the mistake of bringing opened bags of chips onboard. You will have to toss them.
Reusable Beverage Cups & Water Bottles
Think of Mother Earth and consider bringing reusable cups and water bottles for your trip.  There is no need for a new to-go coffee cup with every caffeine boost throughout the trip!  Also, plastic bottles and straws are not a good combination with our oceans. Please do your part to reduce plastic usage!
---
I think our first family cruise was a success. We are still not cruisers, but that is ok. I see the value of a cruise especially since we can easily drive to a port which is big savings for our family of four. It also taught me the differences between cruise lines. I have now sailed with Celebrity, Royal Caribbean, & Norwegian. I have also planned three Disney cruises for families. I feel well equipped to help plan cruise vacations for my clients. Since I put a big emphasis on embracing cultures and authentic experiences, I think my focus will generally be on more destination-focused cruising going forward but I am always happy to help my clients any way I can!

Are You Ready To Explore More?
Follow Us On Social Media!
Show Us Some Love On Social Media
Read About The Private Resort Concept here.